I first wrote and scheduled this blog piece a while ago. It seems to me that in these unprecedented times of 'social distancing' and increased home working, effective communication for teams is more important than ever. We need to support each other and communicating well is part of that.
If you are planning how your team is going to stay connected while you are physically remote from each other, I hope you find these tips helpful.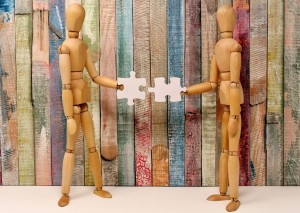 One of my business values (and a personal one, for that matter) is to be connected – this means in practice that I always consider myself to be part of the organisation I am working with for the duration of my connection to them.
Due to the variety of my work, this may be a brief contact through a half-day training workshop, a longer connection through a bigger project such as an in-depth review of their internal communications or relationships that are built up over time spent working alongside them so that they can deliver effective communication about their work and support them in achieving their objectives.
I once wrote a piece for a freelancers website about how I love being part of a team and how I have found that working for myself enables me – somewhat counter-intuitively – to be part of many different teams.
Over the years I have been privileged to witness many different groups and teams in action. My belief in the fundamental importance and impact of communication in the functioning of teams and organisations has been reinforced over and over again.
Here are 3 elements that I think are vital for effective team communication:
Clear objectives and shared purpose – what are we here to do and how do we all contribute to that. This is helped by leadership communication that offers the right mix of local support and understanding with the link to the official communication from the organisation as a whole.
Formal and informal opportunities to communicate with each other. Having a chat with a colleague by the kettle is equally as important as a formal team meeting, although it may serve another purpose. If you only have one or other of these, your team will not be so successful. A mix of ways to communicate and connect, along with clear, shared understanding of what is acceptable and when, are key.
Willingness to be open, honest and challenge each other. Effective teams don't always agree with each other about everything – and that's OK. Bringing these discussions out into the open – and, crucially, working out a way forward – makes a big difference.
Many teams get some, but not all, of these right. Others communicate in ways that work for them, but might not be as effective elsewhere. I have seen all sorts.
Thank you to all the teams I have worked with over the years, you have all taught me something.
Sending positive and supportive vibes to you all. Stay safe and well.
Until next time
Sarah