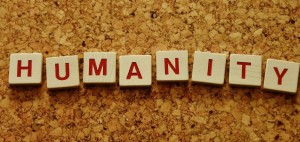 I have attended some fantastic events this week.
Yesterday I chaired an internal communications panel for the CIPR Not-for-profit group, where questions covered a wide range of topics, from using core purpose to motivate people during lockdown to the importance of ongoing discussions about structural racism.
Today I attended one of Dawn Newton's Charity Meetups, where we again discussed motivation and the need to recognise the impact of our own communication style on others.
On reflecting about what I have learned, I realise that a theme across both events was the importance of keeping people well and truly in the centre of your communication activities. This blog covers, in no particular order, some of the inspiration I took away from these sessions.
Amplifying voices
Telling the stories of real people and their real experiences is incredibly powerful.
Sharing stories about the experiences of people who are under-represented, treated badly or in some other way marginalised is even more powerful.
Supporting and empowering under-represented and marginalised people to tell their own stories in their own voices and be heard is the most powerful thing of all.
As internal communicators, we must play our part to amplify those stories. We must also call out stakeholders who are not inclusive.
Communication following furlough
If you're bringing people back from furlough and/or re-introducing working in an office or other communal location, think about the things which will be most important to them. You might be itching to 'bring them up to speed' with the organisation's latest strategy focus, but they will probably be initially more concerned with how many people are allowed into the kitchenette at any one time.
Once you have addressed their concerns, they will be more open to hearing about the new way to identify the clients you can support.
Resistance to new communication channels
Sometimes you have people who seem resistant to using the new shiny digital channels that you are proud of and which everyone else is using. It is easy to assume they are being in some way difficult.
But look closer and you may find something else is going on. For example, they may not have the skills to use the channel and are afraid to admit it. Or it may be a problem with access, such as if they are out and about without wifi.
If you look beyond 'what' is happening (or not happening) to the reasons 'why', you can find a solution that works better for them and you. If they don't have the skills, invest in training that addresses their specific questions and concerns. If it's an access issue caused by their fundamental job responsibilities, maybe digital channels are not the best way to reach them.
Showing empathy
The future reality for some organisations will, sadly, be that they need to consider redundancies for some of their staff. In these situations there are, of course, official HR processes that must be followed and official communications that must be provided.
Make sure that you do not lose sight of the fact that there are real people with real human emotions at the heart of these official proceedings. Showing empathy and treating them with genuine care should be central to your communication. It is possible to give bad news in a way that people understand and leaves them feeling respected.
Two ears and only one mouth
Truly person-centred communication is about genuine listening, more than talking. To listen to others' perspectives and appreciate where they are coming from with their views, you may need to put your ego to one side. You may need to be open about where you have got things wrong and own up to your mistakes. Done with humility and a desire to learn, people will appreciate your authenticity.
In times of crisis and stress it can be especially tempting just to rush through with your own ideas, but taking time to involve others and co-create something together will be much quicker in the long run. That's because you will all move forward together and not have to stop, start and repeat communication you thought had already been done.
Thanks to all the fabulous people who have shared their wisdom this week. It's a pleasure to be able to learn from you all.
What would you add to the person-centred communication tips on this list? I'd love to hear about the things that work for you. And if you would like help finding ways to put people front and centre in your communications, please feel free to get in touch.
Until next time
Sarah