In this latest guest blog I bring you a beautiful story of kindness, learning and welcoming. A huge thank you to communicator, Swati Joshi, for sharing her family's uplifting story of migration as a positive experience.
As a 1st generation Indian American, I was excited to watch @KamalaHarris sworn in as VP of the US. What made this moment more special was watching it with my 88-year-old mother, who migrated to the US from India in 1959 at a time when most Americans didn't know where India even was. She never expected to see a woman of Indian descent in the White House in her lifetime.
Like many migrants, my parents saw America as the land of opportunity and a better quality of life. Their experience was by no means easy, however unlike most migrants then and particularly people of Indian, Middle Eastern and Asian descents now, what makes my parents' story inspiring are the acts of kindness they encountered along the way.
What if communities now embrace all migrants with the kindness my parents experienced then and truly change the lives of future generations?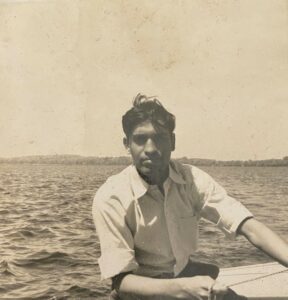 Born and raised in a small village in western India, my parents married in a traditional arranged Hindu ceremony. Soon after my father, who graduated top of his class, earned the rare opportunity to complete his master's degree in engineering abroad at the University of Wisconsin in Madison. In 1958 as a young brave man of 25, he collected just enough money for tuition and his journey aboard an ocean freighter bound for America.
He traveled light, carrying only the essentials and $500. On board it was rough, industrial and uncomfortable with a small crew and a few other passengers. He endured 5 weeks of tumultuous seas, gale force winds and crashing waves.
Little did he know how important this journey would become to the extended Joshi family and its future generations.
Encountering simple acts of kindness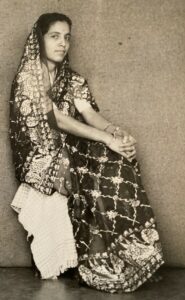 While studying in Madison, my dad met Tom and Priscilla Catlin: she helped foreign students acclimate to life in the US, and he worked as an executive at her family's paper company. Their simple act of welcoming my dad into their family as another child would simply change my family's lives. The Catlins initially helped him as a student, offering him a summer job, invited him to family gatherings and giving him a permanent role in the company. My dad would work at the company for some 25 years until his unexpected death in 1986.
In contrast my mom's journey a year later was quite different. Although a woman who challenged traditional norms in India, traveling alone as a young Hindu woman posed new challenges for her: her first bouts of racism, language barriers, food restrictions, safety concerns and financial constraints, along with homesickness, seasickness and anxiety over what awaited her in America.
She encountered 2 simple acts of kindness that helped her endure 35 days at sea aboard an ocean liner:
a young Hindu family befriended her, helping her onboard and easing her loneliness.
And, concerned she wasn't eating enough, the crew introduced her to the chef, who made her meals she could eat. These simple acts made her travel experience bearable.
Embracing cultural differences
Arriving in the US during the early days of the Civil Rights Movement to a small non-diverse community that knew nothing about India was a culture shock for everyone. Residents in my hometown had never met an Indian, and they were especially unfamiliar with my mom's traditional appearance, clothing and customs. This cultural ignorance ran both ways: my parents battled discrimination and ignorance, grappled with frigid Wisconsin winters, struggled to maintain a vegetarian diet and find Indian spices then that are common today, and wrestled with understanding American clothing and customs from bikinis to dating.
As my parents settled into the community, Grandma and Grandpa Catlin – as we affectionately called them – introduced them to their extended family, as well as close friends in the community. This small group of people warmly welcomed my parents into their homes, embraced the cultural differences, taught them about American concepts, took time to learn about Indian traditions and asked my parents to educate the community about India.
Balancing the best of both cultures
With their help, my siblings and I grew up embracing the best of both cultures: we celebrated Diwali and Christmas, ate a mix of American and Indian foods, enjoyed traditional American pass times like boating and skiing, and learned traditional Indian songs, dances and customs. Boating on a Sunday afternoon after attending Puja (Indian Prayer) is one of my favorite examples of how we balanced both cultures.
My parents paid this kindness forward, becoming trailblazers for other Indians. They pioneered 2 organizations to help other Indian migrants embrace American customs, celebrate their heritage and teach their children about Hinduism. Today I'm a Hindu Indian American graced with the love and warmth of a Catholic sister-in-law and Jewish brother-in-law, who along with my siblings are raising their daughters to embrace their dual faiths and multicultural heritages.
As I reflect on my parents' amazing journey, here's what I know: the simple acts of kindness they felt as early migrants truly changed the lives of future generations. Breaking it down, these acts of kindness were quite simple and framed around 3 guiding principles:
Learn about their heritages and customs.
Listen to the challenges they face.
Love them as you'd love your own family.
What if communities embrace all migrants with these 3 principles and become someone's beacon of hope?
What if we are all the Catlins?
An award-winning global communicator and strategic business advisor with 25+ years of experience, Swati Joshi is Founder of Beacon Partners. A boutique communications consulting business all about helping leaders be better communicators, Beacon Partners' name reflects Swati's love for lighthouses and passion for her field.
The post What if … communities embrace all migrants with kindness appeared first on Time for Kindness.