This month's guest blog comes from facilitator, author and founder of Inky Thinking, Tom Russell. As a leader of an organisation, he has spent a lot of time considering the importance of kindness and is able to demonstrate what that looks like with his team on a daily basis.
Kindness in leadership is a subject I've wondered about for a long time.
Does it play a role in leadership?
Is being kind simply being soft?
Does being kind open the door for others to take advantage of one's kindness?
These are all questions which I, and probably many others, have mulled over.
I recall in a previous role I was leading a small team, including one person who was experiencing serious personal relationship difficulties leading to a need to move out of home. My reaction – to offer them the space and time they needed to resolve their immediate challenges. My thinking – this member of the team was dedicated and conscientious, and would be far more engaged, productive and happier once this issue was resolved.
I made an explicit choice, in this context, to be kind and compassionate. Conversely my manager at the time took a different view, suggesting that I had been 'too soft' and should not have adopted the approach I did.
Regardless of whether I made the right decision or not, this was a milestone for me in my understanding of kindness and leadership and cemented my view that kindness and compassion play a critical role in leadership as they do in life.
Pressing need for kindness
Fast forward to 2020. The world is experiencing the most challenging period it has ever faced. Leaders have been challenged like never before, because their teams have been challenged like never before. Leadership can be a difficult task at the best of times, aside from working through the impact of a global pandemic and the variety of anxieties and concerns it brings to individuals, teams and organisations.
If there's been a time when the need for kindness in leadership has been pressing, it's now. I've been particularly interested the commentary around leadership during the pandemic, both commercially and politically.
The concept of 'Wise Compassion' has especially interested me, suggesting that it is the critical combination of compassion and wisdom (being leadership competence) that enables leaders to 'do hard things in a human way'.
Rasmus Hougaard, who developed this concept, explains that demonstrating compassion (or being kind) is not a permanent leadership style, but rather a mood or way of behaving in a given context, such as the scenario I described at the beginning of this post.
What does this all have to do with kindness?
Displaying 'wise compassion' doesn't mean holding back when a situation requires a tough stance, but what it does represent is an awareness of your leadership (what Hougaard calls wisdom, mentioned above) and actively choosing to display genuine kindness for the benefit of others.
The great news is that kindness is teachable and contagious
According to the University of Wisconsin leaders can develop their 'compassion muscle' in the same way as we develop physical muscles when weight training. Also when others see you, as a leader, demonstrating kindness it encourages them to do the same.
The trick is to constantly develop our 'compassion muscle' by focussing on practicing kindness every day, including: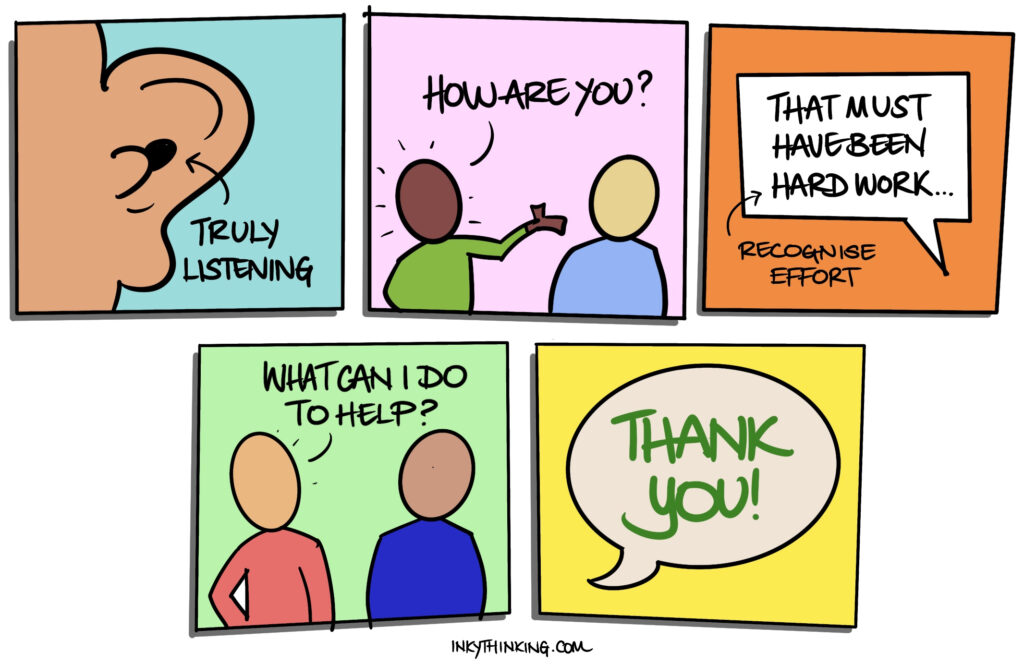 The importance of connecting
In my role as leader of the Inky Thinking team I make it my aim to connect with everyone as regularly as I can. This can be tricky given that we are a virtual team, nonetheless it is critical for maintaining positive relationships and fostering a culture of mutual support.
When I do speak to a member of the team the person always come first, and the work second. A leader who seeks to dive into the work first, before really connecting with the person, is missing a massive opportunity to show compassion and interest, especially when they haven't connected with their team member for some time.
We also use Slack to support each other and cheer each other on at Inky Thinking. Even if we can't speak to each other we can offer words of encouragement and support virtually, at any time.
Although virtual interactions won't replace a good face to face conversation, they do provide a way of showing kindness which, in the current context, could make a real difference to others.
Having doubts?
If you're a leader who has doubts about the place that kindness occupies in the leadership toolkit, think about what would happen if you weren't kind.
They [kind leaders] have been shown to increase morale, decrease absenteeism and retain employees longer. Kind bosses may even prolong the lives of their employees by decreasing their stress levels which improves cardiovascular health.

Psychology Today
If all these benefits of kindness add up to enhanced productivity and organisational effectiveness, what's not to like? Whatever I need to achieve, I choose kindness every time.
Tom Russell is the founder of Inky Thinking, a creative agency designing bespoke graphics and animations, enabling leaders and organisations to communicate effectively. Before founding Inky Thinking he developed a career in human resources, with organisations including Safeway Stores, Volvo Cars and Cancer Research UK. He is the author of 'Meet with Impact – 40 visual tools for productive meeting and engaging workshops'. Tom lives in Northumberland with his family. In his spare time he is a volunteer for Shout, a UK charity providing support 24/7 to people in crisis.
Sources and articles of interest:
'Compassionate leadership is necessary – but not sufficient'. Rasmus Hougaard et al. Harvard Business Review. December 2020.
'Good leadership is an act of kindness.' Boris Groysberg & Susan Seligson. Harvard Business School (Working Knowledge). November 2020.
'Why compassion is a better managerial tactic than toughness.' Emma Seppälä. Harvard Business Review. May 2015.
The post What if… I demonstrate wise compassion? appeared first on Time for Kindness.