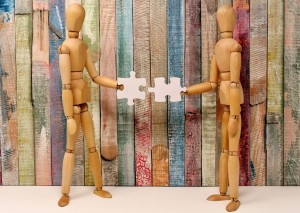 This week I began a project with a new client. I also had a telephone call with another new client to discuss a workshop I'm running for them. During conversations with both of them I talked about the difference between formal and informal communication and why both are important.
To be clear, I was not talking here about the tone of the language used, I was referring to the format. I often make this distinction clear to clients.
In this context, formal communication is something such as a newsletter, email announcement or staff presentation. When people come to me asking for help with their communications, these are often the types of things they're talking about.
The official channels.
The communications activities.
The 'stuff' they feel they have to do, in order to be 'doing communication properly'.
The things I refer to as informal communication include:
The chat about a project which you have while standing by a colleague's desk.
The 'oh, I'm glad I caught you' conversation when you visit a mate on the fifth floor for a gossip and bump into someone from HR in the lift.
The impromptu problem-solving discussion you get into on the way to the sandwich shop.

Serving different needs
Both formal and informal types of communication have their place in a communications strategy and approach. They can serve different needs and reach new audiences or different groups in different ways.
But in my experience, informal communications can be overlooked. They are not always considered 'proper' communication. They are not valued as they should be.
I believe we're missing a trick if we don't include them.
Conversations like this are often unprepared and just seem to happen. This can make them feel more natural. This in turn can mean they are a more pleasant experience. Both parties in a (genuinely) informal chat may also feel more able to contribute – the 'rules' are less formal.
Trusted connections
A manager in a local branch of one of my clients recently told me that most of her information about what is going on across the organisation comes from conversations with people she knows at head office.
She knows she could look things up on the intranet or read newsletters. But she wants to hear information from a colleague. Crucially, when she has a trusted relationship already in place, she feels she can rely on the information.
And that's one of the key benefits of informal channels. They support the development of connections over time between teams and individuals. Working together towards common goals is far easier when your people feel connected to each other.
3 steps to encourage connections
1. Look at what is already happening and think about how you can build on that.
Where are connections happening naturally? This might include:
Between teams whose work is linked
In geographical spaces where people come together
Amongst groups of individuals who have common interests

What can you you learn from these connections and apply elsewhere?
2. Lead by example
Encourage your leaders and influencers to have genuinely informal conversations with others. Show interest and listen to what is being said.
3. Provide trusted information sources
Ensure that people have somewhere to go for accurate, up-to-date and credible information. Conversations can easily spiral away from facts and into rumour; providing details they can trust helps to avoid that.
How do you encourage informal communication at your organisation? What impact does that have on connections?
If you would like help addressing these areas in your communication strategy, please get in touch.
Until next time
Sarah