At a time when charities are #NeverMoreNeeded, expressing the impact you have in the world is more important than ever. As a sector we need to show how we remain relevant in a rapidly-changing world.
Your organisation is making the world kinder: how you express that will depend on your audiences. You need to identify how you make the world kinder and then articulate that in a way that resonates with your supporters, partners, clients and staff (to name just a few).
The aim is to drive connection with your kindness stories.
So start with your audience, then look for the stories that matter.
Who are you talking to?
Here are some example groups you might want to hear your stories of kindness and why. Look at your organisation strategy to guide you in identifying which audiences you need to communicate with:
Staff – when they understand and engage with your story, they are your best advocates and will contribute as much as they can to achieving your organisational aims. They want to know what they are part of and tell the world how they make a difference.
Volunteers – they also need to know what they are part of and feel motivated to keep giving their time and skills. Potential volunteers may have many options available to them – your story needs to speak to them and inspire them to choose you.
Funders – the challenges caused by the global pandemic and lockdown mean that charities' stories must be stronger than ever. Choose your funders carefully, look at what they say is important to them right now and put those elements in the stories you tell in your applications.
Supporters – there are many motivations for supporting a not for profit and your organisation's story needs to tie in to the reasons your supporters have chosen you. This won't be exactly the same for all, but there is likely to be a common thread. Spend time building relationships with them and listening to their stories, as well as sharing your own.
Members – a good, engaging story helps to illustrate the value you are adding to your members. With budgets being squeezed, if they don't understand what they're part of and why, you may find their subscription is not renewed.
Local politicians – this group are concerned about the local communities they represent. If you are looking for connections with or actions from them, your story needs to demonstrate how you are making things better locally.
At last week's CharityComms 'Who Cares' seminar, author Joe Barrell shared a model for building engagement with your audiences: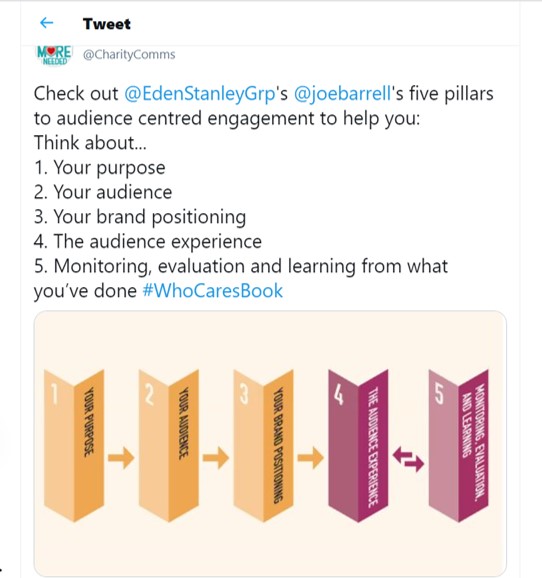 This is a useful approach so that you can work together to make the world a kinder place.
Why should they care?
Once you have a clear understanding of what matters to your audiences, you can look at how your work helps hem to achieve their goals. You can articulate your story in a way that shows you make the difference they want to see. And probably want to be part of.
For example: If they want to see a world where children are fed nutritious food, tell the stories of how your volunteers take healthy food parcels to community centres. Or the stories of how you are campaigning for policy changes. If they want to see a world where people facing eviction due to their debts are empowered to find a way forward, tell the stories of how you provide advice and information to those in need. Or the stories of the household finance courses you run at youth groups.
Most importantly, remember to include the 'so what' of your kindness stories. Not just the 'what'. As well as telling them what happens, talk about why that matters.
#RightNow
On 17 February 2021 the #NeverMoreNeeded campaign is holding a co-ordinated day of activity to raise awareness of the sector's work and call for more government support. To find out more about how you can join in, take a look at Adeela Warley's recent LinkedIn post.
Until next time
Sarah
The post Tips to articulate your kindness stories appeared first on Time for Kindness.