The CharityComms Inspiring Communicator Awards and Winter Social is one of my favourite evenings of the year. In recent times we have become used to hearing a lot of negativity about our sector (and many other things). So it's nice to take time to learn about some of the amazing people doing their level best to make the world a better place.
This year's event was no exception and full of inspiring stories. (Full disclosure – I enjoyed the canapes too!)
How it works
The annual awards invite nominations from across the sector. A panel of six judges takes on the task of reading the incredible stories of all the nominees and then whittling them down to the winners. One of this year's judges told me how tricky it was to choose just a few, when everyone was so inspiring.
At the awards evening itself the winners are presented with an award and their achievements are celebrated. As one of them said this year:
"It's a privilege to help scientists tell their stories and it is nice to be recognised [for our work]."
You can read the full details of the winners and their stories on the CharityComms website 2019 awards page.
Stories to tell
What struck me most about the winners was their passion and commitment to enabling others to tell their stories. They use those stories to inspire, to increase understanding of their cause and to encourage people to think and act differently.
They spoke of feeling privileged to help others. Several of them are using their own personal experiences to connect with their audiences. Building trust and empathy are just some of the human instincts at the heart of their work.
This picture shows some of the words and phrases used in the nominations and their acceptance speeches: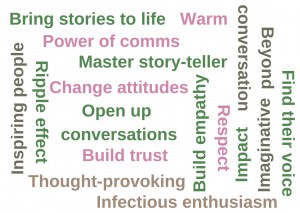 No 'I' in team
Another thing which each winner mentioned was the importance of the people around them. Successful communication is not the achievement of just one person. Having a team around you – whether in officially-designated comms roles or not – is crucial to amplifying stories.
Once you start a conversation you don't know how far it can go and how much it can change. If you inspire them, others will take your message and run with it. Keep people at the heart of what you do and you won't go far wrong.
I truly believe in the power of communication to change the world for the better. Sometimes it can feel like a thankless task, especially in our current challenging times. So it was lovely to take time out and remember why we do what we do.
And to feel inspired.
Until next time
Sarah