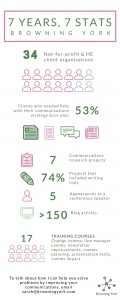 Today is the 7th anniversary of the date I officially set up my not-for-profit and higher education communications limited company. I'm celebrating by sharing some of my favourite moments.
I love my work
When I left Cancer Research UK after 7 happy years, I needed to earn an income, but I also wanted to carry on working in a communications role. At the time, my daughter was 2 and a half, so I knew I wanted to be able to spend time with her too. What I needed was a part-time role where I could use my communication skills and not inconsiderable expertise – I soon discovered those roles were as rare as hen's teeth!
So after a lot of soul-searching and middle-of-the-night-worrying, I made the decision to dip my toe in the waters of going it alone. The first contract went well, then I found another and another and all these years later, here I am, a fully-fledged freelance people communication specialist.
Freelancing, running your own business, working independently; however you want to define and describe it, it is an amazing experience. There are times when it's scary, lonely or downright boring, but overall I'm delighted that I took this path. When I'm working with great clients on interesting projects, there's nothing better.
Top 10
Over the years I have laughed, cried, been frustrated, been challenged, learnt about myself, learnt about others and had huge amounts of fun. I often marvel at the people I've met and the experiences I've had that I simply wouldn't have come across if I was sitting at a desk with a single employer. So here are 10 of my favourite experiences so far:
1. Visiting hospices around the country and interviewing nurses and other staff caring for patients and their families in their final days. They were genuinely inspirational people.
2. Going on a day trip to the midlands with senior leaders from one university to find out how another university runs its degree programmes. (Note: They knew we were there, it wasn't an undercover mission.)
3. Supporting an international development NGO to set up their first internal comms team, training them and working with them to put together their first ever internal comms strategy.
4. Visiting a disability sports centre and discovering that I am much better at visually impaired shooting and seated archery than wheelchair basketball. (Note: it's much harder than the paralympians make it look to control the chair and the ball at the same time.)
5. Presenting to a room full of procurement professionals about how to improve compliance with their processes and contracts through effective communication. (Note: I enjoyed it so much, I'm doing it again this year.)
6. Interviewing an academic who got the giggles on camera. The aim was to promote a module he was teaching – the fun and enthusiasm we captured on film encouraged many more students to sign up.
7. Chairing a public policy event about the highs and lows of parking management. (Note: there's much more to it than you might think and I genuinely enjoyed supporting the speakers and delegates on the day.)
8. Facilitating a focus group where I more or less had to sit on a local councillor to get him to stop talking and start listening.
9. Building a network of dedicated, committed, amazing professionals from communications and other disciplines. If my clients need a service that I don't offer, I can usually connect them to a great person who does.
10. Getting to grips with tea and coffee etiquette at numerous different offices. (Note: woe betide you if you get it wrong.)
So many memories, so many more that I could have chosen.
The very best thing of course is all the amazing people I have met and worked with, both face to face and online. Clients, associates, fellow freelancers and more.
I thank you all for starring in my story.
If you would like my help in improving communications at your not-for-profit or higher education organisations, please get in touch to discuss what you need.
Until next time
Sarah