"It's useful to have a structure to use for communications."
Charity delegate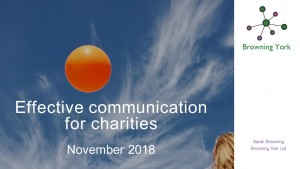 Today I ran a Communications Masterclass for charities on behalf of the Small Charities Coalition. During the half-day workshop we covered areas such as making the case for effective communication at your organisation, ensuring your communication is effective, how to build a strategic comms plan and how to use audience insight.
The attendees held a range of roles in their organisations from Communications Manager and Director of Fundraising, to Chair of Trustees and Community Fundraiser. As always on my courses, it was great to have a range of people who were coming at communication from slightly different perspectives, but who all wanted to improve how they communicate and engage with their audiences.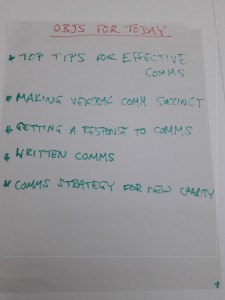 The specific communication problems they wanted to address also varied. One attendee was facing the challenge of needing to bring supporters with her as she made changes in order to better support beneficiaries, while another one came from a new charity which needed to raise awareness of their mission. Working for a more established charity, another lady wanted to excite and involve her beneficiaries in a special 70th anniversary celebration. At the start of the session we had a chat about their objectives for today, so that we could make sure everyone's needs were met.
The session today – as with much of the work I do when I'm supporting my clients' projects – was structured around communications planning. I introduced the delegates to a comms planning tool that they can use to make sure they cover all communication bases. We looked at how that could be applied and discussed the consequences when the basic principles are missed.
Once everyone was comfortable with the tool as a whole, we moved onto focussing on audience insight for a while. We formed a virtual comms team for a charity we had made up and then set ourselves the task of planning some comms for our annual family fun day. Different pairs within the team were allocated a particular audience group and practised putting themselves in the shoes of that group.
This was a lively section of the training, with people on their feet, gathered around flipcharts with coloured pens and lots of ideas. When we shared our thoughts with the rest of the group, there was plenty of cross-over, but differences too. Crucially, this task illustrated that effective communication isn't about you, it's about your audience – gaining an understanding of what motivates and engages them is key to success.
The rest of the masterclass was spent on areas such as simplifying messages without dumbing down, deciding on appropriate tone of voice and ensuring all communications include the 'so what' factor. (Regular readers of this blog will know that I have written in the past about how important this is!) We even managed to squeeze in a quick chat about the different methods of communication available and how you can choose the ones that will be best for your organisation.
The feedback forms are yet to be submitted, but the verbal feedback on the day was good. The practical tips for making communication effective, even when you are from a small and busy organisation, were well received. The delegates were a great bunch, who made the session fully interactive and a joy to lead.
If you would like me to run a communications masterclass at your organisation, please get in touch for a chat about what you need. If you would like to attend an open session, also drop me a line and I'll let you know when the next one is running.
Until next time
Sarah