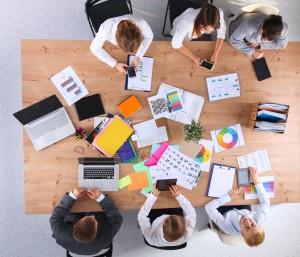 In a Wall Street Journal article about employee engagement that was published this summer, a senior leader from a retail organisation was quoted as saying:
"We used to prioritize our stakeholders as shareholders first, customers second, and employees third. We now realize we had it backward. If we put employees first, they in turn take care of our customers, (who) in turn t€ake care of our shareholders."
This link between taking care of your employees and the positive impact that has on your organisation's aims and objectives has been well-documented over the years and yet still there are many who don't take the time to get engagement right. I think this is sometimes because leaders don't feel confident about how to achieve it, so I've gathered together a few articles on the subject:
In this Guardian piece, you'll find a list of ideas for improving how people feel – and therefore how they perform – at work: Unhappy at work? How to spread cheer in the office
Every company develops 'rules' that feel like they make sense at the time, but if you take a step back, you might see that your rules are causing more problems than they're solving: Ten Dumb Rules that make good people quit
This Harvard Business Review article talks about how you can allow people to play to their strengths and feel a greater motivation as a result: How to Motivate Employees to Go Beyond Their Jobs
There are some great ideas in this Wall Street Journal piece for gathering feedback from your employees and providing tools to help them have a better experience of work: Building a Better Employee Experience
I would love to hear about how you engage your employees at your organisation. And if you're looking for help with identifying how your employee engagement and communication can be improved, please get in touch for a no obligation chat.
Until next time
Sarah