Whichever way you look at it, 2018 has been quite a year. There have been countless examples of communications, good and bad, that have influenced opinions and changed behaviours; helped people to live their lives and just plain entertained them; made them angry, made them laugh and made them cry.
I asked some lovely people I know to share communications that they have enjoyed during the year.
1. SillySocks campaign from the Kids Network
If you're passing through Kings Cross Station today, look out for the Sock Man 👀👣 Donate a pound to pin a sock 😁 The aim is to look as silly and as socky as possible #SillySocksTKN #GivingTuesday pic.twitter.com/M1NxtqZ7Or

— The Kids Network (@the_kidsnetwork) November 27, 2018
We love this campaign because it is perfect for their brand – youthful, vibrant and fun, and allows their small team to make the most of their talent and passion by keeping it simple. It's well executed with really visual content, which can be easily shared across different platforms, and is constantly varied in style, length and format.
Chosen by Alex Wells, Training and Events Coordinator, Small Charities Coalition
2. 'Without Question' film by the Institute of Chartered Accountants in England and Wales
I think what ICAEW have done with this film is astonishing. They've put a real production budget behind it and used established professional actors, so it's easy to get immersed in the drama. The film explores themes like boardroom behaviour, power dynamics, decision-making under pressure and the risks of social media. If the purpose of good communication is to change what people think, feel and do for the better, this meets the mark entirely.
Chosen by Oli Howard, Interim Head of Strategy Development at CIPD
3. Then & Now pop-up photography exhibition in Catford
This exhibition was a celebration of Lewisham's young people. It brought together John Groto's iconic 1977 Lovers Rock series, capturing the styles and fashions of young people meeting in youth clubs and church halls, with portraits by photographer Des Willie of today's generation, living with post code rivalries and meeting in virtual spaces, communicating through social media platforms. It felt timely, human and personal.
Chosen by Adeela Warley, CEO, CharityComms
4. Refuge's Christmas campaign
1 in 4 women will experience domestic violence at some time in their life. When you think of Christmas, you think of happy times spent with loved ones but sadly domestic violence increases by 45% over the festive period. Refuge's Christmas campaign looks like three lovely Christmas poems – until you read them from the bottom up. Powerful stuff.
Chosen by Kirsty Marrins, Digital Communications Freelancer, and first shared via a blog she wrote for Lightful.
5. Tomorrow's World Live: For One Night Only
I loved watching Tomorrow's World as a kid and I loved watching it when it was brought back for one night only in November. It was just fab seeing Maggie Philbin and crew again. This is just the kind of TV the BBC should be making. If it returned permanently I'm sure it would help people take more interest in science.
Chosen by Andrew Hesselden, Internal Comms Specialist and co-founder of IC Channel Check
6. Monday Magazines on Instagram
I've continued to love Instagram Stories this year and the interesting ways people use it. One of my favourites was seeing Lea Rice from Heart and Soul Digital launch her Monday Magazines. It's a mini magazine for digital marketers, with upcoming national days, stats, news and polls. You can see her previous ones in the highlights of her Instagram account.
Chosen by Emma Cossey, Coach for freelancers
www.freelancelifestyle.co.uk
7. Accessible Toilet sign
Spotted on a client visit today:

"Not every disability is visible,

Accessible toilet

Please use with respect'

A simple way a #rdguk based business is getting it right on
#InternationalDisabilityDay #DisabilityRightsAreHumanRights pic.twitter.com/xbq2wk8Z76

— Team Holy Brook (@HolyBrookLtd) December 3, 2018
I spotted this sign whilst visiting one of our clients. It simplifies a potentially embarrassing situation and raises awareness in a non-judgmental way. It felt particularly important in the context of International Disability Day.
Chosen by Rachel Eden, Director of Holy Brook Associates
8. Suzy Reading's Instagram Monday Micro Moments
Every Monday at 9am, psychologist Suzy goes live on Instagram to demystify self-care and impart simple tips to help you start the week with a motivated mindset. She's calm and knowledgeable, and these short, interactive sessions – such as preventing burnout – are like a hot bath and fist-pumping pep talk all at once!
Chosen by Katie Jones, Freelance Writer and Editor
9. The Drinks Menu at The Coral Room, London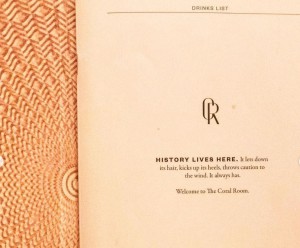 I love this copy, it immediately makes you feel as though you're part of something special. It's a great example of how little details can add a different dimension to a customer's experience when done right. In this case, this beautiful copy helps transport you away from the day to day and settle in for a night to remember.
Chosen by Holly Head, Freelance Copywriter
@Aardvark_Copy