Once again I decided to finish the year on my blog by asking some lovely people about the communications that meant something to them during the last 12 months. Unsurprisingly, perhaps, there is a political feel to several of the choices. There are also representations of how we can all do something for others and develop ourselves to do better.
1. Age UK and Cadbury's 'Donate your words' campaign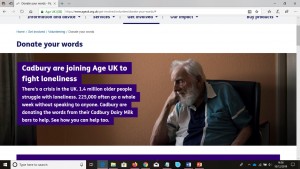 I'm a sucker for Age UK around Christmas time, given I live in London with an older dad 'up north' who's often home alone. So when one morning I was casually flicking through my Facebook feed, and a video ad popped up saying 'even if you scroll past, it's the most attention she'll get all day', it got me right in the gut.
It was part of Age UK's campaign with Cadbury's, with the concept and ask of 'Donate your words to fight loneliness'. For me, it's a fantastic example of an emotive twist on a really consistent brand message, as well as bringing digital and non-digital channels together (as they rebranded their chocolate bars on the shelves too). It definitely got me and my colleagues talking.
Chosen by Laura Pickering, Charity Internal Communications Manager
No matter where you sit on the political divide or the leave/remain issue, the campaign from Led by Donkeys for me has been an excellent example of what can be achieved to get across a message in interesting and unusual ways. For me communications are all about engaging with people and getting them talking about your message and this campaign certainly has achieved that goal.
Chosen by Neil Thompson, Director, Work in Confidence
3. Future Charity report
The communication that has had the biggest impact on me this year has been the publication of the Future Charity report. It makes for sobering reading but its klaxon call for change focuses the mind and has been a huge motivator for me. I recommend it regularly in conversations within and about the sector.
Chosen by Caroline Doran, Leadership and Change Coach in the charity sector
Whilst originally produced in 2017, it has been cropping up throughout 2019, usually around times of political decisions. Opinion is clearly divided on whether this was originally a Brexit-related campaign (HSBC say not but they are timing it's reappearance around decisions in that arena). For me, it's about celebrating diversity and difference, finding things that we have in common and emphasising that we are part of something bigger.
If I am their target audience, they have done their job well as it resonates and I remember which bank it is – so many adverts are so obscure they are hard to associate with the brand.
Chosen by Ellie Highwood, Diversity and Inclusion Consultant, Equasense
5. SimplePolitics on Instagram
This year has been considered to be very political, but I was embarrassed at the start of the year about my lack of knowledge. The @SimplePolitics Instagram has been a huge help, educating without bias about political processes, party manifestos and what each government vote meant (often with a little humour thrown in to stop it being too dry). It's a force for good on Instagram, and judging by the shares in my feed, it's encouraging a lot more of the Instagram generation to be politically aware AND active.
Chosen by Emma Cossey, Coach for the self-employed, The Freelance Business Lounge
6. #WorldKindnessDay campaign by BookTrust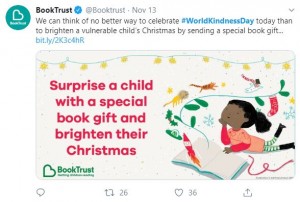 To celebrate #WorldKindnessDay on 13 Nov each year, BookTrust has a lovely campaign that encourages people to share the gift of reading with a child by making a donation and also highlights fantastic books that embody the spirit of the day. They emphasise how books can make us feel less alone – by reading together as well as exploring other worlds – encourage empathy and start conversations.
Chosen by Sarah Clarke, head of membership, CharityComms
7. One Minute Manager books

As a CEO of a small charity, I decided that I need to develop my skills and knowledge of leadership and management and went through the ILM qualifications. A few books were recommended by the assessor and I read a selection from the One Minute Manager range. This led me on to thinking about how my actions and the way I come across could affect who I communicate with. The book made me consider more about how every person is different and you need to have different approaches to different people. It uses simple language for maximum effect and is quite humorous which made it enjoyable as well as informative. This is a reminder that I need to revisit the book!
Chosen by Marcia Rowlinson, CEO, ABC to Read
8. ACEVO Leadership Worth Sharing podcast series
My personal choice is the ACEVO Leadership Worth Sharing podcast series. I have really enjoyed listening to leaders from around the sector talking about the way they lead their organisations and their ambitions for the future. There are a number of reasons: it's good to hear some different voices; many of the leaders interviewed are women; they are all doing things in new and innovative ways. I have genuinely been inspired by all of them and my own thinking and actions have developed as a result.
I hope you have enjoyed these communications as much as the people who shared them.
Until next time
Sarah
What did people choose in previous years?
If you'd like to look back to compare and contrast, here are the links:
2018 – https://www.browningyork.com/great-communications-2018/
2017 – https://www.browningyork.com/great-communications-2017/