Before we get into the detail of how to create communication success, we need to talk about what success actually means in this context.
According to the Collins dictionary, the definition is:

So you might consider that you have succeeded in communicating when:
You have sent something out
You have sent something out without factual or grammatical errors
People saw/read/heard what you sent out
A deeper level
However, I would argue that you need to look more deeply at what you were trying to achieve and, more importantly, why.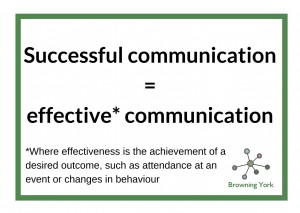 In my professional world, I would express it like this:

This morning I've been chatting to Judith Davey, CEO at The Advocacy Project, and my fellow panellist at next week's Strategic People Conference. She has some great examples of how they provide information in a variety of formats to meet their audiences' varied needs.
We got onto the topic of measurement.
In order to be as inclusive as possible with your communications, it is important to use more than one method. However, it is also important to check that your messages are actually reaching your intended audiences in that format and that you are not simply using it so that you can tick a box.
If no-one needs that format, you can save your time by not using it.
And you can use that time in other, more effective ways.
In short, you need to check that your communications are succeeding, in order to know that they are adding value to your organisation. To know that they are contributing in some way to your work.
Planning successful communication
Of course, you don't have to wait until after the fact to investigate whether you have succeeded. You can also take action at the planning and production stages to get things started in the best way.
10 questions to ask yourself in order to improve your chances of successful communication
1. What do I want the outcome to be?
2. What do I want my audience(s) to think, feel and/or do as a result?
3. What is important to my audience(s)?
4. What do they already know (or think they know)?
5. What is it about their experiences and attitudes that will influence how they receive my communication?
6. How will I include their voice in my communications?
7. How will I listen to their feedback?
8. Which formats have worked well in the past?
9. How will I measure the impact of the communication on the outcomes that are achieved?
10. If I find that the outcomes are not as I expected or are not being achieved, what will I change?
I'd love to hear about any other tips you have for increasing the effectiveness – and success – of your communications.
If you would like some support to communicate successfully at your organisation, please feel free to get in touch for a chat.
Until next time
Sarah