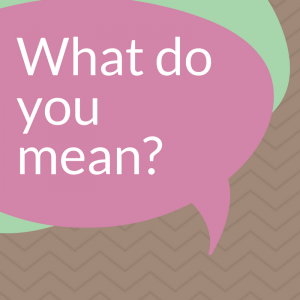 I often talk about 'effective communication' in my presentations, comms strategy conversations and training workshops. But what does that phrase actually mean?
A good friend asked me this question after reviewing some text for me. And I thought 'If Pat wants to know what effective communication is, then other people will probably be wondering the same thing'.
Simply put, I believe that effective communication is communication that achieves the desired outcome. So if you need to increase your fundraising income, for example, effective communication will inspire and motivate your people to exceed their fundraising targets.
Or if you need to make efficiency savings, then effective communication will share this need with your people in such a way that they actively look for ways to be more efficient.
Of course, life is never that simple. To bring about behaviour change, you'll need a range of activities to engage your people. They will need to believe in what you are trying to do, feel that they have a contribution to make to the end result, feel that they have the knowledge and skills to do the job and be motivated to do everything they can to achieve it. I believe that communication is at the centre of this.
So how do you make your communications engaging?
First of all, they have to be lively and interesting – nobody is going to be inspired by a communication that has been produced by someone who sounds bored with it themselves! There are lots of ways to do this, including:
– tell stories about real people
– use amazing facts and figures
– paint a picture of the future so that people can see it, hear it, taste it.
Secondly, it's far more likely that your audience will engage with your communication if they can see the benefits to them. WIIFM (what's in it for me?) is a very useful question to have in mind whenever you're communicating with others. And, of course, the 'me' in this instance is your audience, not yourself! Make sure you cover the benefits to them in what you say or write.
Finally, leave them wanting more. If they get to the end of your email, speech or podcast and are clamouring to know more, especially if that more is 'what can I do?', then you have done a great job.
Get in touch if you would like help with making your communications more effective.
Until next time
Sarah