This week I submitted the final internal comms audit report to one of my charity clients. They had approached me earlier in the year, knowing that internal communication wasn't working for them, but not sure exactly what the problems were. Or how to solve them.
Following my research and analysis, they now have a clearer picture of what is going on currently and some options for what to do next.
Carry out an audit
If you want to gain a better understanding of what is happening comms-wise at your organisation, here are the 3 stages I would recommend for an internal comms audit: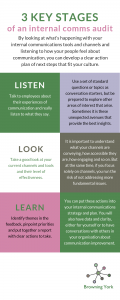 Feel free to keep this infographic somewhere handy for future reference.
How did I help my client?
By speaking to a range of people representing the charity's directorates, locations and hierarchical levels, I found out about their experiences of internal comms and how it is contributing (or not) to their ability to do their jobs. Some teams were so keen to get involved that they sent me their thoughts via email. I also had a look at their internal communication channels to see what was going on there.
Once I had analysed all this feedback, clear themes emerged that I used to inform my recommendations for next steps. It is only when you look at a wide-ranging body of input like this that you realise the people who want to understand other teams better, for example, are not isolated voices. This gives strategic weight to the need to inspire improved cross-organisational communication.
With these insights, I was able to give them clear direction about the options now available and the pros and cons of each one. The Senior Leadership Team will be discussing the report at their meeting next week; I am confident that whichever option they choose, improving internal communication will have a big impact on how they support their service users.
If you would like an independent person to carry out the research for you, please do get in touch to discuss how I can help. I can carry out full-scale audits, conduct a couple of conversations to give you a flavour or coach you through the process so you can do it yourself.
Until next time
Sarah